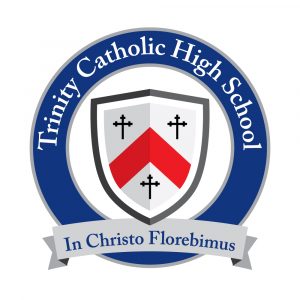 Founded in 1976, Trinity Catholic High School is one of the most distinguished Catholic schools in the country. 
In partnership with parents, Trinity aims through a Christ-centred curriculum, to develop young men and women of faith, good character, strong intellect and generous spirit, able to move confidently into the world and to use their talents and gifts to lead and serve others. 
The School is part of the Catholic Church, and, as such, is conducted in full accordance with the Canon Law and the teachings of the Church. Religious Education, in particular, is in accordance with the rites, practices, discipline and liturgical norms of the Catholic Church, and at all times the School serves as a witness to the Catholic faith. 
The School comprises three main internal structures, namely, Key Stage 3, Key Stage 4, and Key Stage 5. 
The School exists:
to assist Catholic parents in fulfilling their obligations;

 to educate children in accordance with the principles and teachings of the Church;

to do this within an environment which will encourage and support the spiritual, physical, moral and intellectual development of the child and help growth towards full Christian maturity;

to provide a wide and rich range of educational, cultural and spiritual experiences which will encourage children to discover and develop their potential to its maximum, striving for high standards of excellence in all activities.
The School's motto captures this well:
In Christo Florebimus, In Christ we Flourish. 
1. At Trinity, we believe that the centre of our Life is the Eucharist through which we love God and also love our neighbour.
2. At Trinity, we believe that religion, lies at the heart of every individual. Accordingly, we must never mock, ridicule or harass anyone because of their religious beliefs or their practice of them.
3. At Trinity, we believe we are brothers and sisters, sons and daughters of God, equal in dignity to each other and before God. We must never take away, in any fashion, the dignity of another person.
4. At Trinity, we believe that the teachers and staff are here to serve us. According to Christ, those who serve should be treated with a special dignity and respect, especially people who, when we are at school, act as our parents, our mothers and fathers.
5. At Trinity, we believe that our community is a happy, pleasant and harmonious one. We must all work hard to maintain this.
6. At Trinity, we believe that the fabric of the school and all its resources are for our enjoyment. We must take great care of these.
7. At Trinity, we believe that we are here to grow stronger and better so that we can serve others both in our own community and those communities attached to it, be it our neighbourhood, our country or those communities in the world which require our special support.
8. At Trinity, we believe that the strong must always protect and go to the help of those who are weaker than us.
9. At Trinity, we believe we are here to develop our God-given talents.
10. At Trinity, we believe we are here to make our parents and families proud.
11. At Trinity, we believe that what we do, what we achieve, is important in this life and in the life to come.
12. Our vision is summed up in this statement:
"Lord High God,
Help me today to use my talents,
To do your will; Nothing less, nothing more, nothing else.
We ask this through Brother Jesus who Lives
And reigns with you and the Holy Spirit, one loving living God,
Worlds without end.
Amen"
Dr P.C. Doherty OBE
Headmaster