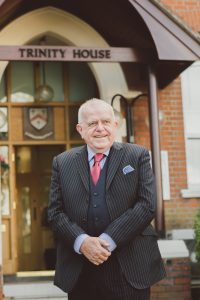 Dear Parents/Carers and Students,
During the course of their assessments, students may possibly experience exceptional unforeseen short-term circumstances which are outside their control and which might have a detrimental effect on their studies. These events are referred to as "mitigating circumstances" and are normally exceptional, short term, unforeseen and unpreventable events that may have a significantly disruptive effect on the student's ability to take or complete assessments. Examples of mitigating circumstances include:
Temporary illness or accident\injury at the time of the assessment;
Bereavement at the time of the assessment (where whole groups are affected, normally only those most closely involved will be eligible);
Domestic crisis arising at the time of the assessment;
Serious disturbance during an examination, particularly where recorded material is being used;
Accidental events at the time of the assessment such as being given the wrong examination paper, being given a defective examination paper or CD, failure of practical equipment, failure of materials to arrive on time;
Failure by the centre to implement previously approved access arrangements for that specific examination series.
Mitigating circumstances are events that are over and above the course of everyday life, and normally outside of your control. They may affect your ability to revise for assessments, complete assessments or even attend assessments. Given that special consideration requests will not apply this summer, subject teachers will take into account where mitigating circumstances might have temporarily affected performance. Applications for mitigating circumstances must be submitted using the mitigating circumstances link (here) within 5 school days of the assessment date. This allows for the claim to be considered in a timely manner and a confirmatory response of receipt of the claim made back to the student /parent as close to the point of assessment as possible. In all cases, applications for mitigating circumstances must be submitted no later than Monday 31 51 May so that we have sufficient time to review the application and also implement any considerations that should be appropriate for marking the assessment. Where it is not possible to provide the evidence within this timeframe, students/parents must submit the form within the deadline and provide a clear indication of the evidence that is to follow, and the expected timeframe.
Yours sincerely,
Dr P.C. Doherty OBE
Headmaster
Dear Parents/Carers and Students,
As you know, Formal Assessments commence for GCSE and A'Level students on Tuesday next week and will run for a period of over 3 weeks. Staff at school have spent considerable time planning and preparing for these assessments and I expect that students too are working hard to be best prepared for the weeks ahead. We want everything to run smoothly for everybody and therefore I will appreciate if students and their parents/carers can note the following matters.
Health and Safety
The welfare of students and staff is always our priority and therefore our assessments timetable will be fully compliant with Covid-19 safety measures. We will continue to keep year group 'bubbles' separate (early morning, at lunch and during breaks) and we will implement measures that facilitate the NHS messages about "Hands, Face, Space and Ventilate" and which ensure that the whole school continues to run efficiently and safely in line with DfE and NHS coronavirus guidelines.
Suspected Coronavirus infection: If students (or any members of their household) are displaying symptoms consistent with Covid-19, they must not attend school. Please inform the school immediately and we will make arrangements for students that are absent to take their assessments at a later date.
Face Coverings: Aligned with current DfE guidance, students will continue to wear face coverings at all times when in school, and this will include the wearing of face coverings during formal assessments. I know that there are varied views about the reliability of this guidance however this is the advice provided by the NHS and the DfE and it is a policy that we will uphold.
Equipment: As part of our health and safety procedures, there can be no sharing of equipment and therefore students must ensure that they have the correct equipment (pens, pencils, sharpener, protractor, calculator … etc.) for their assessments. Students should also not borrow any equipment from, or lend any equipment to, any of their peers.
Sanitising and Cleaning: Students will sanitise their hands as they enter and leave the assessment venue. The vast majority of assessments will take place in the Upper Site Sports Hall and students will sit at the same seat/desk for all of their assessments. This will help with the cleaning / sanitisation routine that we will implement every day.
Ventilation: Please note that the sports hall and other venues will be well ventilated (in line with government guidelines) during assessments and therefore I advise that students should wear additional layers and warm under-clothing when coming into school for assessments.
Daily/Assessment Routine:
Students must be on the Upper Site playground by 8.30am at the latest on the days when they have morning assessments. This is necessary so that we can continue to keep all year group bubbles separate. I recognise that this is an earlier start than your usual time and therefore, to encourage students to arrive early on the school site, I have arranged that the school caterers will provide free croissants and free drinks on the mornings that you have assessments. The dining hall will be open from 8.00am every day over the next 3 weeks and all students are welcome to come to the hall any day that they wish.
Punctuality: Morning assessments will begin promptly at 9.00am and afternoon assessments will begin at 1.00pm. Students should assemble in the playground at least 30 minutes before their assessments to enable us to properly organise all assessments venues.
Illness: If a student is unwell and cannot attend school on the day of an assessment it is vital that you contact the school before 8.30am (020 8504 3419) to confirm your absence from an assessment. We will make arrangements for the assessment to be taken at a later date.
Personal Belongings: Coats and bags can be taken into the assessment room and stored under your chair. I remind students that mobile phones should always be switched off during school hours and I advise that students should not bring mobile phones into school during the formal assessment period.
Assessment Timetable: Personalised assessment timetables have now been circulated to all students via their school email account. I strongly advise that students transfer the relevant information to their student journal so that they can plan out their revision and also see how their assessments are spread out across the three-week assessment period.
Anonymised Marking: It is planned that, as part of the marking of these formal assessments, staff will "blind mark" the answer scripts wherever this is possible. Therefore, as part of the assessment process, students will put only a candidate number on their assessment script rather than their own name and thus the assessor will not be able to identify whose script they are marking. This is one method used to eliminate unconscious bias and it is a further means to demonstrate that the assessment of knowledge, understanding and skills is based on the evidence in front of the assessor rather than on their prior perceptions of a student's ability.
SEND and Specific Assessment Arrangements:
Careful consideration has been given to ensuring that appropriate support and full provision is in place for students with SEND and those that require access arrangements and/or reasonable adjustments. All students that have entitlements to access arrangements and/or reasonable adjustments will be provided these in every assessment.
If you have any queries about any aspects of the formal assessment process, please do not hesitate to contact my exams manager, Mr Bedwell, or the Y11 Year Leader, Mrs Law. They will be very happy to help you. I wish you all the best with these important assessments.
Yours sincerely,
Dr P.C. Doherty OBE
Headmaster