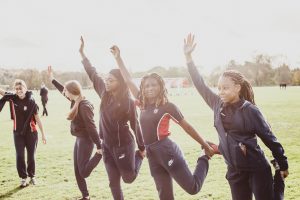 Welcome to the Physical Education Department
Staff
Ms C Healey                Subject Leader: PE /Key Stage 4 Coordinator/Duke of Edinburgh Coordinator
Mr E Yusuf                    KS3 Coordinator
Mr D Bacon                  KS5 Coordinator
Mr M Slattery             PE Teacher
Ms C Harding              PE Teacher/Y8 Year Leader
Ms M Hart                    PE Teacher
Introduction
Welcome to the Physical Education Department. At Trinity we are fully inclusive and our vision is that all students feel confident, successful and develop lifelong habits of leading balanced and active healthy lifestyles. Students will develop their mental health through being successful in structured activities which are designed to enhance self-efficacy, social skills and confidence. Through mixed ability PE groups students are expected to respect the range of talents and support peers accordingly.
Our facilities include 4 netball courts (2 floodlight), a large gymnasium, a sports hall and extensive off-site playing fields.
KS3 and 4 Core PE Overview
For key stage 3 students will perform a range of activities including Football, Rugby, Netball, Dance, Badminton, Athletics, Tennis and Cricket. There is a strong focus on fitness with a continuous run at the start of every lesson. Students have 2 single PE lessons each week. At KS3 we run a variety of clubs throughout the year which mirror our curriculum activities. Clubs include Football, Rugby, Netball, Athletics, Trampolining, Gymnastics, Cricket, Table Tennis, Badminton and Tennis. For most sports, we have sports teams for each year group entering Borough and County competitions.
For key stage 4 Core PE the students will continue with some of the core activities performed in key stage 3 with the addition of trampolining, table tennis and mountain biking in Epping Forest (weather dependent). There is still a strong focus on fitness with continuous training at the start of most lessons.
KS4 GCSE PE Overview
Exam Board – OCR
Students explore how parts of the human body function during physical activity and the physiological adaptations that can occur due to diet and training. They also develop skills in data analysis, and an understanding of the principles of training, why we train in different ways and how training plans can be made to optimise results.
Students develop their knowledge of the social-cultural and psychological influences on levels of participation in sport, and also how sport impacts on society more broadly. This includes the individual benefits to health, fitness and well-being of participating in physical activity, as well as the influences of commercialisation, sponsorship and the media.
Students are assessed in performing three practical activities and one performance analysis task. In the practical performance, they demonstrate effective performance, the use of tactics or techniques and the ability to observe the rules and conventions under applied conditions. They are also required to demonstrate their ability to analyse and evaluate their own performance to produce an action plan for improvement.
Exam Breakdown
| | |
| --- | --- |
| Component | Weighting |
| Paper 1 (Anatomy and Physiology) | 30% |
| Paper 2 (Sociocultural and Psychology) | 30% |
| Non Examed Assessment (3 Sports and Written Coursework) | 40% |
KS5 A Level PE Overview
Exam Board – OCR
The A-Level PE course will equip students with both a depth and breadth of knowledge, understanding and skills relating to scientific, socio-cultural and practical aspects of physical education.
Students develop their knowledge and understanding of the factors that underpin physical activity and sport and use this knowledge to improve performance. They will understand how physiological and psychological states affect performance, understand the key socio-cultural factors that influence people's involvement in physical activity and sport. Alongside this understand the role of technology in sport and how it has emerged.
Students will develop their ability to analyse and evaluate to improve to improve performance, understand the contribution which physical activity makes to health and fitness. They will improve as effective and independent learners and as critical and reflective thinkers with curious and enquiring minds.
Leaners are also internally assessed and externally moderated in one practical activity and one evaluation and analysis of performance for improvement task (EAPI). Learners are required to demonstrate effective performance, the use of tactics and techniques as well as the ability to observe the rules and conventions under applied conditions. Students are required to produce a practical performance video highlighting themselves performing the skills covered in the specification to the highest standard possible, under competitive conditions.
Exam Breakdown
| | |
| --- | --- |
| Component | Weighting |
| Paper 1 (Anatomy) | 30% |
| Paper 2 (Psychology) | 20% |
| Paper 3 (Sociology) | 20% |
| Non Exam Assessment (1 sport and 1 spoken exam) | 30% |