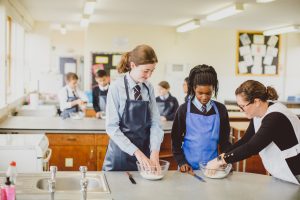 Welcome to the Home Economics Department
Department Staff
Ms S Loster- Subject Leader: Home Economics
Mrs C Bergh – Home Economics Key stage 3 coordinator
Miss J Elderton – Key stage 3 teacher of Textiles
Mrs N Fordjour – Key stage 3 teacher of Food and Textiles
Technicians
Mrs K McDonnell – Home Economics Upper site technician
Ms A Walsh – Home Economics Upper site technician
Mrs S Bhatti – Home Economics Lower site technician
Home Economics Curriculum Intent
The HE Department at Trinity is committed to planning, developing and delivering a food and textiles curriculum which provides all students with the broadest possible range of opportunities that will help them to acquire the personal skills and aptitudes to thrive. We aim to deliver a curriculum which is creative and enjoyable and which encourages students to try new ways of looking at things by combining materials, techniques and ingredients. Our students will be reflective, independent, resourceful, innovative and resilient problem solvers. Through teaching and learning we will encourage evaluation, experimentation, investigation and questioning. The curriculum will be accessible to all allowing students to become self-motivated and confident learners, who can work independently and as part of a team and develop technical and practical competencies as well as the wider skills valued by employers.  Students will develop the life skills and knowledge associated with healthy living, food nutrition and cooking with a focus on sustainability with the materials and techniques we use in both textiles and food. Cultural awareness will be embedded throughout the curriculum.
The intent of our curriculum in KS3 Textiles is to make Textiles accessible to all students and to encourage and nurture the desire in our students to produce Textiles work of high calibre. In Textiles we cultivate creativity through the study of carefully planned and structured tasks that will teach students to develop the skills to confidently use specialist equipment (e.g. sewing machines) and understand the importance of key skills (e.g. hand stitching techniques) and machine stitching. The course enables students to develop knowledge, experience and understanding of trends, designing, fashion, clothing, surface pattern and manufacture.
In KS3 Food Technology students will develop an understanding on how to apply the principles of a healthy and varied diet following the guidance from the Eat well Guide. Students will be able to prepare and cook a wide diversity of dishes using a range of cooking techniques. They will have an understanding of the term seasonality and how this can be applied to menu choices. Students will gain extensive knowledge where and how a variety of ingredients are grown, reared, caught and processed. Students will also be aware of taste, texture and smell and how to season and combine ingredients; adapting and using their own recipes in later stages of Key Stage 3. The impact of the knowledge and understanding enables students to cook a variety of dishes building on their skills from Year 7 through to year 9 where they will be able to make a variety of international dishes to a high standard. Students learn about multicultural foods and experience how different cultural foods influence our everyday food choices. This cultural focus helps us to broaden students' knowledge of the wider world and have an appreciation of the importance of food in cultures across the world. Students in Key Stage 3 will acquire a broad range of subject knowledge and draw on disciplines such as mathematics and science. We ensure that students have a wider understanding of environmental impacts on our choice of foods and why there should be more encouragement to buy in season.  Students also have a clear understanding relating to food choices and the impact on the environment relating to food waste.
KS4/5 Food, is an exciting and creative course which focuses on practical cooking skills to ensure students develop a thorough understanding of nutrition, food provenance and the working characteristics of food materials. The curriculum is designed to be progressive, so that students can apply, build and master the skills and principles introduced at KS3. We aim to build essential life skills required to cook well-balanced, affordable, healthy meals, ensuring pupils grow to be confident when cooking, making informed life-long choices about food in order to feed themselves and others affordably and nutritiously. Students will become more creative whilst understanding the dietary needs of a wide range of people with a mixture of dietary and health concerns. Students will have not only a love for cooking but also develop a deep understanding of how it is produced and the role it plays in good health. Students will also have a clear and in depth understanding of the nutritional value of foods and the effect they have on health.
Introduction
The Home Economics Department is staffed by very enthusiastic, committed and experienced teachers who are supported by three technicians. The staff are extremely dedicated to ensuring every student maximises their full potential.
All staff teach Food and Textiles at key stage three; high standards of work and behaviour are expected. Practical work is an essential part of the work done ­­by the students and as a result the department is very busy and lessons are fast paced and engaging.
Students are successful in their achievements at all Key Stages where we gain above average results at key stage three and at GCSE. Students are taught in mixed ability groups and may include children with Special Educational Needs.
Our facilities include 3 fully equipped Food Technology rooms, each with 10 ovens and 5 sinks and a wide range of equipment for students to develop a range of culinary skills. We have 1 large Textiles room with a number of sewing machines, over lockers and embroidery machines for students to use.
Key Stage Three Home Economics
Students spend half of the academic year within the department, completing a ten-week project in Food and a ten-week project in Textiles. The emphasis with all these projects is developing practical skills, designing and making and ensuring students feel confident in their ability to complete practical skill independently in a safe environment.
Food
Year 7: Students learn about healthy eating, food safety, basic preparation and cooking techniques. Practical skills will involve the use of the hob, oven, electric whisk and other everyday kitchen equipment.
Year 8-9: Students start the 'Level 2 Edexcel Home Cooking Skills' qualification. This course develops the student's ability to plan and prepare a series of nutritious home-cooked meals for breakfast, snacks, lunch and dinner, and helps them understand how to cook economically. Evidence is collated over the two-year period and the final assessment is carried out in year 9. Students are encouraged to challenge themselves in terms of the products they cook and many skills they learn would be considered complex at GCSE level.
Textiles
Year 7: Students research 'Pop Art' and apply their knowledge, design and make a decorative cushion cover. Students use Computer Aided Design as well as the sewing machine, over locker and other Textiles equipment.
Year 8: Students develop their practical skills when using the sewing machine, they research, design and make a sports bag/ accessory bag.  The theme of the project is 'be seen' and student use fluorescent and reflective fabrics to add decoration to their bag.
Year 9: Students apply their knowledge of textile decorative and construction techniques to design, develop and make a personalised apron.
Key Stage Four
The department deliver the AQA Food Preparation and Nutrition course; this course focuses on practical cooking skills to ensure students develop a thorough understanding of nutrition, food provenance and the working characteristics of food materials.
Food preparation skills are integrated into five core topics:
Food, nutrition and health
Food science
Food safety
Food choice
Food provenance
Exam Breakdown
Component
Weighting and details
Written Exam – 1 hour 45 minutes
50% of total grade.

Students are assessed on the five core topics.

NEA 1
15% of total grade.

Food Investigation – assessed on function and chemical properties of ingredients.

NEA 2
35% of total grade.

Students complete a three hour practical assessment of 3 high skilled products.

Students research, evaluation and application of nutrition are assessed.
Key Stage Five
The WJEC Food Science Nutrition Diploma is delivered in year 12 and 13. This course consists of 3 compulsory units taught over two years.  Students will develop and extend their knowledge and understanding of nutrition, food safety and food science. They will also continue to showcase their practical skills preparing and cooking a range of complex dishes.
Year 12
Unit 1 – Meeting Nutritional Needs of Specific Groups (25% Internally Assessed/ 25% Externally Assessed)
The purpose of this unit is for learners to develop an understanding of the nutritional needs of specific target groups and plan and cook complex dishes to meet their nutritional needs.
Year 13 
Unit 2- Ensuring Food is Safe to Eat (25% Externally Assessed)
Learners will develop an understanding of hazards and risks in relation to the storage, preparation and cooking of food in different environments and the control measures needed to minimise these risks. From this understanding, learners will be able to recommend the control measures that need to be in place, in different environments, to ensure that food is safe to eat.
Unit 3- Experimenting to Solve Food Production Problems (25% Internally Assessed)
The aim of this unit is for learners to use their understanding of the properties of food in order to plan and carry out experiments. The results of the experiments would be used to propose options to solve food production problems